The movie "Chariots of Fire" came out two years before I was born. It is the phenomenal tale of Eric Liddell, known as the Flying Scotsman. A strong believer competing in the 1924 Paris Olympics, Chariots of Fire tells how Eric decided not to run in a heat for the 100-meter race because it was held on Sunday. Rather than racing in his ideal length, he raced instead in the much longer 400-meter race—and won.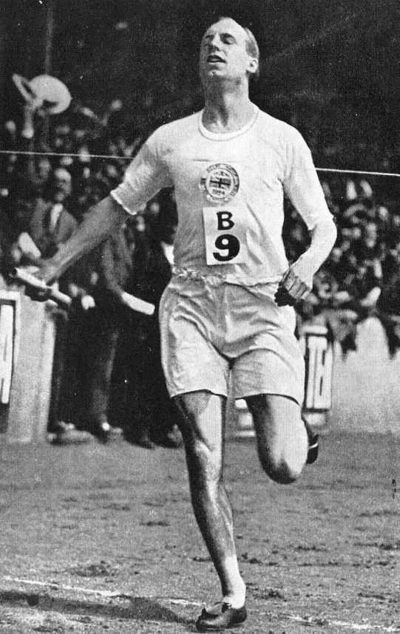 Eric had many passions and many skills—Child of missionaries, dedicated believer, champion rugby player, gold-medal runner, a degree in science. After his gold medal in the 400, he graduated from the University of Edinburgh the very next week. A mentor-turned-friend, D.P. Thomson, convinced Eric to speak with the Glasgow Students Evangelistic Union, and thousands of students gathered to hear from the nationally known gold medalist and world record holder. He became a powerful public speaker as he shared.
Eric went on to serve as a missionary in his beloved China, in the northeast cities of Tianjin and Xiaozhang.
Purpose and passion seemed to infuse everything that Eric did, and he faced each thing with excellence and vigor.
Here's the rest of the story: after years of ministry in China, Eric was interned in Weihsien Internment Camp during World War II. He continued using sports and science in even this difficult place to share the love of Christ and serve the people he loved: youth. Throughout his 43 years, Jesus was his love, teaching his delight, sports his medium of reaching others, and young people his people group. In a university dorm room, at a mission outpost, or in an internment camp, he consistently shared Christ with winsomeness and love. He died of an inoperable brain tumor 5 months before liberation. "Well done, good and faithful servant" are words that definitely applied to Eric's life.
Back to the classic movie: in it, Eric Liddell confides, "When I run, I feel God's pleasure."
He saw that God had made him fast, and had designed him to excel in athletics. When he ran, he felt God's pleasure.
It was not until my adulthood that I discovered that it is only in the movie that Eric says those words. But his entire life reflected its truth and exuberance.
How would you complete that sentence yourself, friend?
When I __________, I feel God's pleasure.
When I am photographing an event where exuberant worship is going on, my camera is an extension of my worship. I sing, sway, and ask Jesus to give me the eyes and heart to capture the scene that He sees. I feel God's pleasure.
When I am chasing a deadline and trying to edit and write and post while still being present and engaged with my kids, I feel God's pleasure.
When I am curled up on the floral couch with my toddler reading "God's Very Good Idea" or "Read Aloud Bible Stories" for the 34th time, I feel God's pleasure.
When I have the opportunity to share and testify to God's sweet goodness in my life, I feel God's pleasure.
When I'm in homeschool mom mode and we're studying magnets and I see the lightbulbs go on in little brains, I feel God's pleasure.
When do you feel God's pleasure?
Ponder and pray today: how has God designed you to fill in that sentence? When do you feel God's pleasure?
If you don't have that feeling, chase it down. God has designed you intentionally, masterfully, and given you a message that only you can share. We need to hear your story! The world takes note of those people who feel and channel God's delight in their every day circumstances.
Fill in the blank.
"Christ for the world, for the world needs Christ!" —Eric Liddell

"No man who really is a man ever cared for the easy task. There is no enjoyment in the game that is easily won. It is that in which you have to strain every muscle and sinew to achieve victory that provides real joy."
― Eric Liddell
---
For Further Study:
Photographs of Eric Liddell at the Eric Liddell Centre
7 Men and the Secret of Their Greatness, Eric Metaxas
The Final Race, Eric T. Eichinger
And if you're interested in a tool for purpose discovery: Life Purpose Planning
(I was one of the co-authors of this resource).