Eyes tightly scrunched, all around the table. Fingers twined together. Heads bowed.
This is how I grew up participating in the before-meal ritual enacted all over the world amongst those of faith—praying before a meal.
If you grew up in a family of faith with real people, or raised children yourself, you can probably guess what may come next: "Mamaaaa! Tommy's peeking!"
This required the informant peeking himself, but we won't talk about that.
The urge is strong, when praying, to follow the rules: "Every head bowed, every eye closed."
Jesus doesn't hear our prayers any better when our eyes are closed. Our prayers aren't suddenly more effective because we don't peek.
The benefit is personal: When I close my eyes, I can focus my mind and my heart on a conversation with Jesus. It minimizes external distractions and helps me center on Him.
---
But hear me: Have you ever watched someone pray? Have you ever watched someone who knows God, who is steeped in His Word, who has spent years knowing Him more—have you ever watched that person pray?
It used to be something not allowed. Remember your childhood? "NO PEEKING!"
Here's an encouragement: watch them pray some time. Peek during a prayer.
When you watch someone who knows Jesus talk with their very best Friend, your heart will be blessed.
---
A few weeks ago, I spent my weekend behind a camera, helping photograph Revive '19, an amazing women's conference hosted by Revive Our Hearts. I got to work alongside one of my all-time favorite photographers who just happens to be a dear friend. At this event, heroes of the faith gathered to pray, to teach, to share.
In the role of photographer, my eyes stay open when heads bow to pray. I'm there to record the action and tell the story of the event, so that those who weren't there can experience it, or so that those who were there can relive it. It's one of my favorite things—documenting the work of God in a room full of people seeking Him.
Over the years with my side gig of event photography, I've just gotten comfortable photographing with tear-filled eyes, overwhelmed by the work of the Holy Spirit. I never want to get used to that feeling, the prayer-turned-into-photography and my own constant communication with Jesus during the event, asking Him to allow me to see through His seeing and tell the story of what He is doing there. It's a holy experience, this photography and this writing, and it's a privilege every time.
At a conference or a church gathering, I am blessed by their words. I am challenged by their stories. But I am moved by their prayers.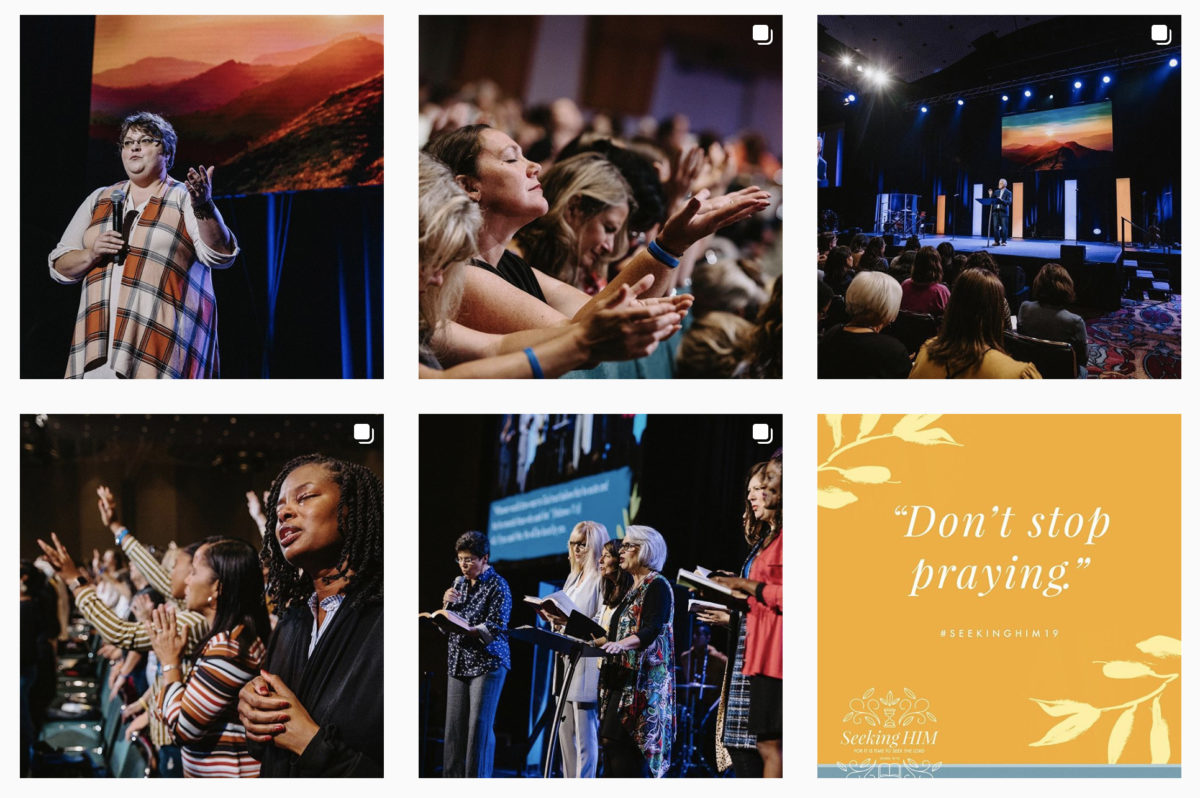 Prayer is simply talking with God. It is a communication with the King of the Universe, and then receiving His Word through the Bible and His prompting. It is one of those things—the most important thing, actually—that can be done any time, any place, with or without your eyes closed. Oswald Chambers said it well: "In the teaching of Jesus Christ prayer is the working of the miracle of Redemption in me which produces the miracle of Redemption in others by the power of God."
Without Him, we can't. Without us, He won't.
To these speakers and these conference attendees, I am simply the photographer, the gal with the camera. But they hold a special place in my heart, because I've watched them pray. I've seen them seek God, seen them go boldly into the throne room of heaven, heard them pour out every emotion, every feeling, every care. Seen them create a holy space in a corner, on a sidewalk, on a stage. Community is created when God's people pray together.
So do you know someone who knows Jesus? Someone who has a relationship with Him that you see is real, that makes you want to know Jesus more yourself? Watch them pray some time. Then add your prayers to theirs and bless your Father's heart.
"And pray in the Spirit on all occasions with all kinds of prayers and requests. With this in mind, be alert and always keep on praying for all the Lord's people." (Ephesians 6:18)
Prayer does not fit us for the greater works; prayer is the greater work.
—Oswald Chambers