A fleet-footed, swift, fluid runner I am not. I don't jaunt out on a 5-mile run for the fun of it. I don't relish the feeling of pavement beneath my feet, wind in my hair, and my heart pounding in my chest. I have no idea what the ever-elusive "runner's high" even feels like.
No, I am a slow, determined plodder. I do it because it's good for me, because it is integral to meeting my goals, because I like obstacle course races and running is an element of that,  because it encourages my kids to get outside. It's a good time to listen to an audiobook, too.
Just this last weekend, I ran a neighborhood 5K. Since then, I've been prefacing most sentences with "When I ran my 5K last week…" I'm just a bit proud of that statement.
In true form, then, allow me to share: When I ran my 5K last week, we gathered at the inflatable Start line. The Serious Ones have been there for 45 minutes, doing their pre-race routine. Some walked up just after the National Anthem, as the announcer was welcoming everyone to the race. A few straggled down the road, not in a hurry to be there right at the start.
The announcer counted down from 10, and we were off! The tight bunch of runners from the beginning of the race thinned out as the truly fit runners pulled out far ahead. The rest of the crowd nestled into a groove…speedy folks in front, walkers behind, everyone else in between.
To my knowledge, I didn't know anyone else at that 5K. It was just me and my earbuds, blasting along to some jaunty tunes.
Because data is power, I decided to activate a run on the run-tracking app on my phone. Allow me to explain my surprise when, at the 2 mile mark, I heard the automated voice in my ears declare my pace: 2 miles; 22 minutes and 47 seconds. What? I did some quick math as I plodded down the road…I was running much faster than my normal pace! And until the notification from my phone, I hadn't even noticed it. That last mile became a real race against myself as I tried to keep that pace until the finish line.
What's that you say? An 11 minute and 23 second mile isn't impressive to you? Well bully for you. Like I said, I'm a slow but determined runner.
The only thing that changed between that 5K and my normal running routine was this: I ran in community. The group encouraged me to run just a little faster, just a little farther, until the end result of the race was a full twelve minutes faster than my best pace this year. Do the math: I cut 4 minutes off my mile last Saturday. And that is my new benchmark that I'm determined to maintain as I move forward.
Running experts recommend a training schedule rotating through Intervals, Sprints, Hills, Slow & Steady, and Long Runs. I'm no running expert, but I would like to propose another: The Group Run.
The writer of Hebrews in the Bible uses the discipline of running to make an analogy to the Christian life:
"Therefore, since we are surrounded by so great a cloud of witnesses, let us also lay aside every weight, and sin which clings so closely, and let us run with endurance the race that is set before us, looking to Jesus, the founder and perfecter of our faith, who for the joy that was set before him endured the cross, despising the shame, and is seated at the right hand of the throne of God." (Hebrews 12:1–2)
Now, I may not be much of a runner, but I am a grammar nerd. In this passage, the writer of Hebrews uses plural pronouns: Us. We. The dictionary defines "us" as "Me and at least one other person."
So here is a bit of basic, simple sports psychology combined with basic, simple grammar and mixed with basic, simple theology: We are not designed to run alone. "Now you are the body of Christ, and each one of you is a part of it" (I Corinthians 12:27).
What does that look like in your life? How can you bring the "us" and "we" into your running? Remember that a definition of "us" is "Me and at least one other person." Who are the "plus ones" that God has brought into your life? Your race isn't meant to be run alone.
When I ran my 5K last week…Even though we didn't know each other at the beginning of the race, there was camaraderie by the time the racers got to the finish line. Even if you don't know anyone, don't let that stop you from seeking community. We need it. We're designed to run on it.
We Are Surrounded
How are we surrounding ourselves with witnesses? When I know that there are people watching and people running, I am more likely to run a little harder than I would all by myself. Accountability is a powerful thing. There are times for the determined discipline of a solitary run on a weekday morning, but don't overlook the group run.
Run With Endurance
At this point in my fitness journey, an 11:23 mile is a win for me. It hasn't always been that way. There have been times when I have been faster, and times when I have been slower. But here's the thing: It's not as much about the past—it's about the right now. Right now, I can run as fast as I can and as steady as I can. Right now, I can lace up my shoes and go out for a run or lift some weights. Right now, I can look to Jesus, the founder and perfecter of my faith, and I can run with endurance the race that is set before me. "Run with endurance the race that is set before us" is in the present tense.
Running with endurance means not giving up. It is the God-given ability and strength to continue, especially when things get hard.
Yes, running is hard for me. When I finally rounded the corner and ran the last stretch of that 5K, I was ready to pass the timekeeper and call it quits. But because I ran in community that day, I ran faster than I ever would have alone.
From a spiritual perspective, what does your running look like this week?
How can you bring community into your race?
How can you make at least one of your runs a group run? 
---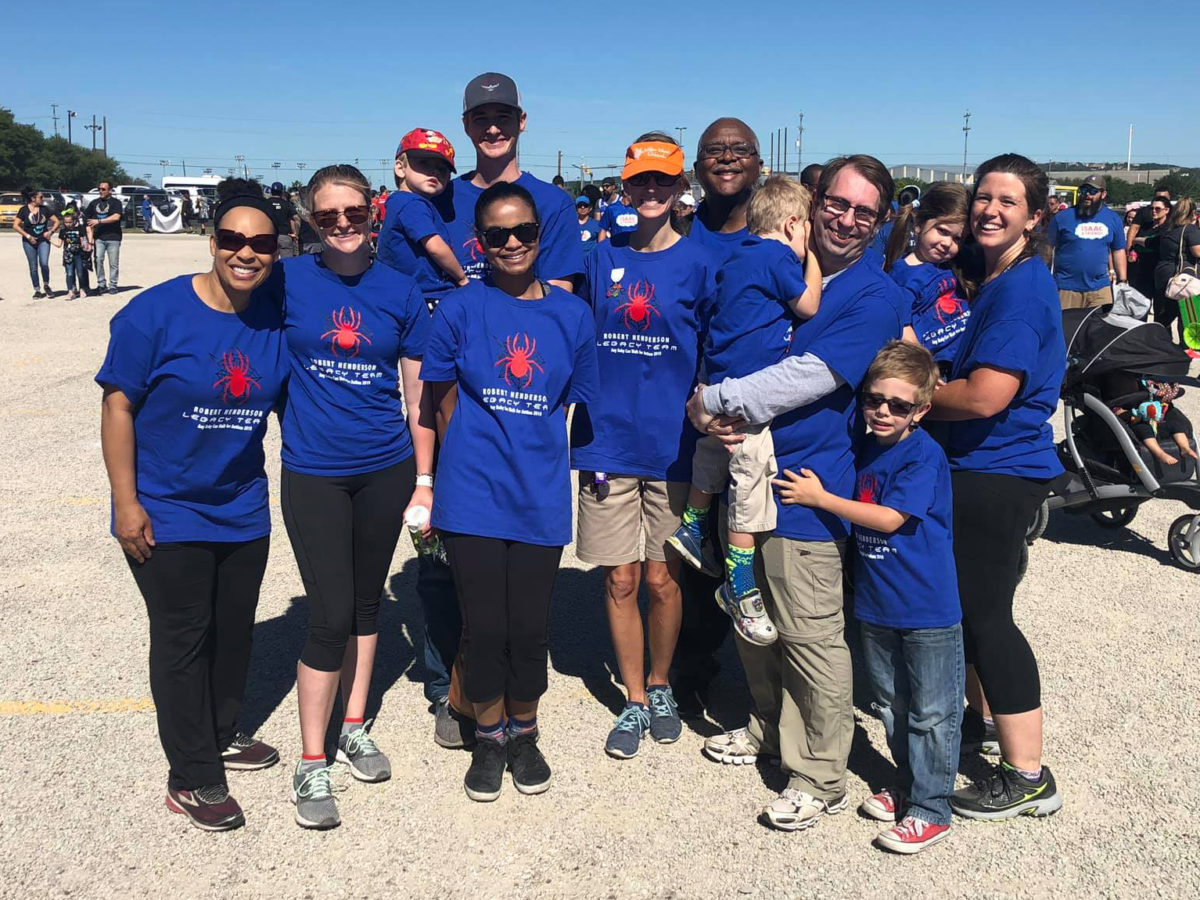 When I ran my 5K last week… I finished in a ridiculously long time. But it was fast for me! And after the race was over, I joined my In-Real-Life community for a 2-mile walk. These people here are a picture of what it looks like to live and walk in community. I'm so grateful for my church's Life Group—a group of people that knows me sincerely and loves me anyway. I love how perfectly imperfect this image is. Closed eyes, sunglasses, tired kiddos, busy background, beautiful souls…This is what a group run looks like.