If you were to list some attributes of Jesus, your list might look a bit like mine: Holy. Righteous. Merciful. Compassionate. Omnipotent. Powerful. Creator. Faithful. Good.
In a recent study of Matthew, though, I saw an attribute of Jesus that I had never contemplated before: Thankful.
Thankful for God's Gracious Will
After a time of teaching His disciples, Jesus thanked His Father for His gracious will, expressed in the fact that He reveals truth to little children rather than the wise and understanding. "I thank you, Father, Lord of heaven and earth, that you have hidden these things from the wise and understanding and revealed them to little children; yes, Father, for such was your gracious will" (Matthew 11:25-26, emphasis added).
Thankful for Provision
In another account, Jesus and His disciples gathered by the Sea of Galilee. A large crowd followed Him, amazed by His miracles and desperate for healing. John takes it from here:
"Lifting up his eyes, then, and seeing that a large crowd was coming toward him, Jesus said to Philip, 'Where are we to buy bread, so that these people may eat?' He said this to test him, for he himself knew what he would do.
"Philip answered him, 'Two hundred denarii worth of bread would not be enough for each of them to get a little.' One of his disciples, Andrew, Simon Peter's brother, said to him, 'There is a boy here who has five barley loaves and two fish, but what are they for so many?'
Jesus said, 'Have the people sit down.' Now there was much grass in the place. So the men sat down, about five thousand in number.
"Jesus then took the loaves, and when he had given thanks, he distributed them to those who were seated. So also the fish, as much as they wanted." (John 6:5-11, emphasis added)
The Bread of Life gave bread. The Word was made flesh. The Creator thanked His Father for the very bread and fish He created. Outstretched hands received as much as they wanted, with twelve baskets full leftover.
Thankful for a God Who Hears Prayers
Jesus' dear friend was sick. Rather than rushing to his bedside in miraculous power, Jesus waited four days. Lazarus' dead body now lay wrapped in funeral clothes, decaying in a tomb. Jesus wept.
When Jesus finally came to the site of Lazarus' burial, He said something no one expected: "Take away the stone." Jesus said that those who believe would see the glory of God, so they took away the stone separating them from a dead man.
"And Jesus lifted up his eyes and said, 'Father, I thank you that you have heard me. I knew that you always hear me, but I said this on account of the people standing around, that they may believe that you sent me' " (John 11:41-42).
Immediately after Jesus' prayer of thankfulness, a breathing Lazarus came out of his tomb in answer to Christ's call.
Even though He was God's Son, Jesus cultivated, expressed, and modeled thankfulness through His words and actions.
Thankful for Passover
Jesus gathered with His disciples for one last meal before His death. He took bread and broke it. He took a cup filled with wine. He gave thanks, then gave the bread and the wine to His friends.
"And he took bread, and when he had given thanks, he broke it and gave it to them, saying, 'This is my body, which is given for you. Do this in remembrance of me' " (Luke 22:19, emphasis added).
This "Last Supper" was when Jesus expressed the ultimate significance of His impending sacrifice. He instituted the rite of Communion and revealed Himself to be the true fulfillment of Passover. At this moment, each of His disciples and all of creation would have been right to fall on their faces and give thanks to Him. Instead, Jesus gave thanks. He showed us what gratitude and thankfulness looks like with skin on.
(Matthew 26:26-29; Luke 22:14-20)
---
A Thanksgiving Blessing
Even on the hardest days, there is something worth celebrating. This life God has given is indeed beautiful.
Ponder for a moment: the King and Creator of the leaf sheep, the cosmic reef, and the kangaroo gave thanks throughout His earthly ministry.
If we look at what we need or want, like Philip and Andrew did, there's never quite enough to go around. If we look at the limitations of reality, like Mary did, our unbelief will hinder us from seeing the glory of God. If we go through rote tradition without awareness, we miss the deeper lessons Jesus is teaching through everyday elements like bread and wine.
Jesus shows us, with His attribute of thankfulness, how to live with thankful gratitude. If thankfulness seems hard to conjure up these days, then use Jesus' words and Scripture to give thanks. Choose one passage a day to pray, rewording each thought to come from your own heart.
Right now, for what can you give thanks? What is bubbling up in your heart that you can allow to spill over in gratitude to your Savior? If your life is harder than you would design if you made it yourself, how can you choose thankfulness even then?
Jesus verbalized thankfulness when He saw God's will carried out. He expressed thankfulness when surrounded by death and despair. And Jesus chose thankfulness on the night He knew He was going to be betrayed. As we prepare our hearts for Thanksgiving, rejoice in the confidence that the Savior who perfectly embodies thankfulness can grow thankfulness in our hearts today, even when it feels like nothing can grow.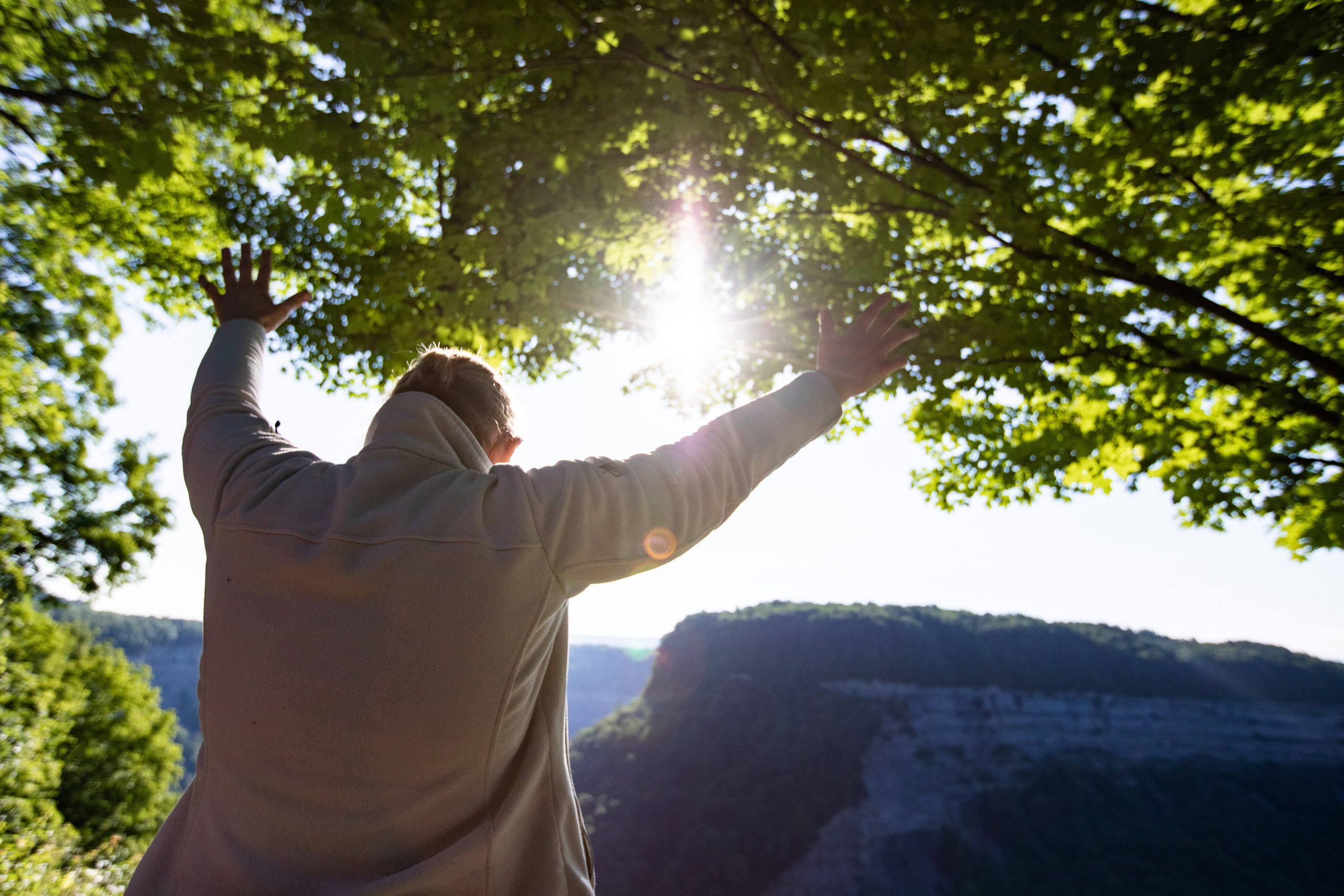 In Everything Give Thanks:
Scriptures to Pray
Romans 1:1-8
Romans 7:22-25
1 Corinthians 1:4-9
1 Corinthians 15:57-58
Ephesians 5:20
Colossians 1:3
Colossians 3:15-17
1 Thessalonians 5:16-18
1 Timothy 1:12-17
"Thanksgiving puts steel in our bones. It reminds us of our enviable, magnificent heritage. It carries us back with grateful nostalgia to that first bitter winter at Plymouth, where less than half of those early pilgrims survived. It speaks in clear, crisp tones reminding us of important terms like courage and integrity, determination, duty and honor and vigilance. Sacrifice and Godliness. Cynics of our day would call those words corny and naïve. I call them powerful and essential for our survival.

—Chuck Swindoll